As an EV driver, it's important to become familiar with charging stations in your area and top up your battery before it gets too low. This can be a bit more tricky on long  journeys where you may not be familiar with what charging points are available or how much they cost. 
Luckily, countless apps have been designed especially for this: to help you plan your trips around your car's initial state of charge (SoC), and how many times you may have to stop to re-charge. We've put together a list of our favourite ones!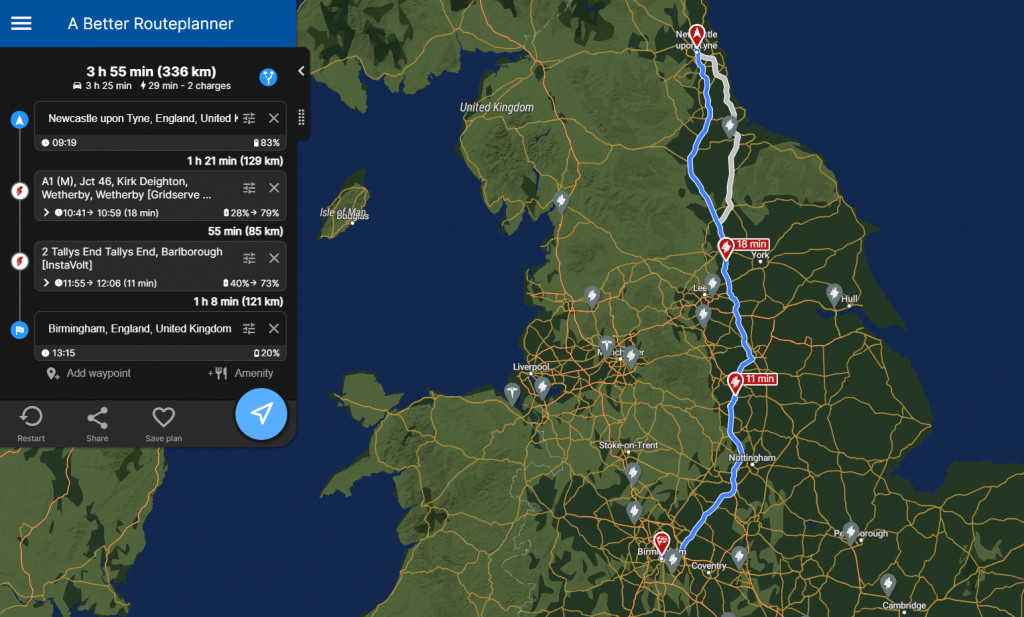 A Better Routeplanner (ABRP)
This app is the perfect journey planner, especially for those longer trips, saving you the hassle of desperately trying to find a electric charging point near you. It is highly customisable, including picking your exact model, how many charging stops you want and of course, live traffic.
Once you input the initial state of charge (SoC) of your EV, ABRP calculates how many stops you will need to re-charge your car, but still gives you the option to choose between lots of short stops, or fewer but longer stops. The app does use standardised data based on the car model, but once you've used it a handful of times while connected to your EV, it will start to tailor your trips based on how you drive.
PlugShare is great for showing you charging stations across the world and is also customisable: you can select the connector type needed for you EV to narrow the search down, and it even displays the charging points that are in use in real time.
The app also allows drivers to update the status of charging stations and even add new ones that others may not be aware of. The Pay with PlugShare feature allows you to pay directly through the app when using compatible charging stations- no wonder it's one of the highest rated EV apps!
This is another popular app for finding electric car charging stations ahead of a journey, although it only works in the UK and the Republic of Ireland. A feature that makes it stand out to us is the option to filter your search not only by connector type, but also by network and power type up to 350kW. Some networks are compatible with Zap-Pay, which allows you to pay directly through the app.
Zap-Map offers a chat feature for users to interact and share updates on local chargers. Users can also pay for the Premium version that connects the app to Apple CarPlay to make it more accessible while driving, but we still recommend picking your stops at the beginning of your journey.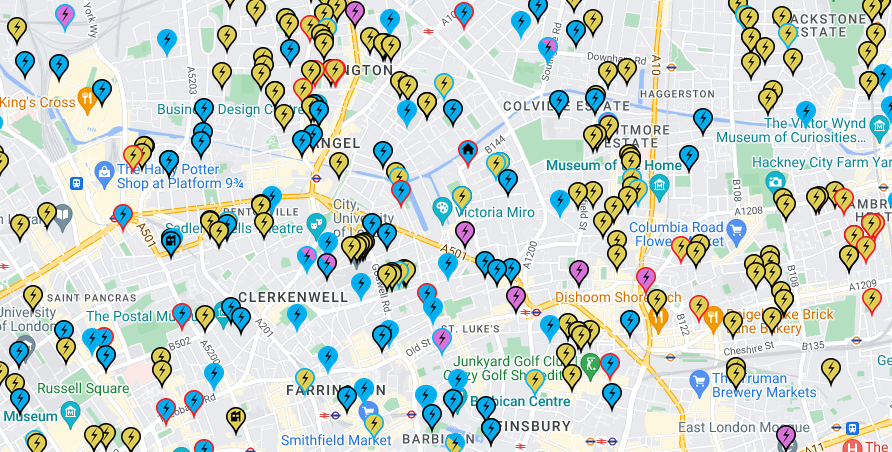 This app has an incredibly useful feature, that is monitoring electricity prices throughout the day to charge your EV during the cheapest and greenest times. The idea is that you plug your car in, select what time it needs to be charged by, and let ev.energy do the work for you! The app provides monthly stats reports and shows you your charge history so you can see how much money you've saved.
Ev.energy will soon get an update for public charging points, too (as it currently focuses primarily on home charging). Both the free and premium versions offer users rewards for charging with them, including cash rewards that can be used with their partners, such as Amazon and John Lewis.
With this app, travelling with you EV has never been easier. Choose from over 170 international hotel brands and 100+ network providers and EV Hotels will find the nearest electric charging point within walking distance from your hotel, or even hotels that already have charging stations available on site.
Not to mention that you can filter your search based on the type of charger your EV requires and how far away you're willing to walk to a charging point, this app is especially useful for those who frequently travel across the country for business purposes.