Step back a decade and the small electric car was something of rarity, with the G-Wiz city car being among the few models available. Now, though, the success of models such as the first generation Nissan Leaf have paved the way for the modern era of electric superminis. 
Nearly every small electric car available today is compact in size, agile to drive and equipped with a punchy electric powertrain that's well suited to both city driving and longer journeys. Range anxiety is also a thing of the past, as even the smallest city car-sized models are capable of over 120 miles of range – while larger supermini EVs can manage close to 150 miles or more with a fully charged battery. 
In spite of their diminutive size, most small electric cars feature rapid charging capability as well, making charging on the go an easy task. They also feature all of the latest safety tech and 'big car' features such as climate control, sat nav, wireless smartphone charging and Apple CarPlay and Android Auto connectivity – meaning you won't be left wanting by picking a small EV. 
But which small electric car is best for you? To help you decide, the EZOO team has taken an in-depth look at all of the models on the market to come up with our favourites. Every model here is available on our brilliant Pay As You Go deals, so read on for the full list. 
Peugeot e-208 – 'The techy choice'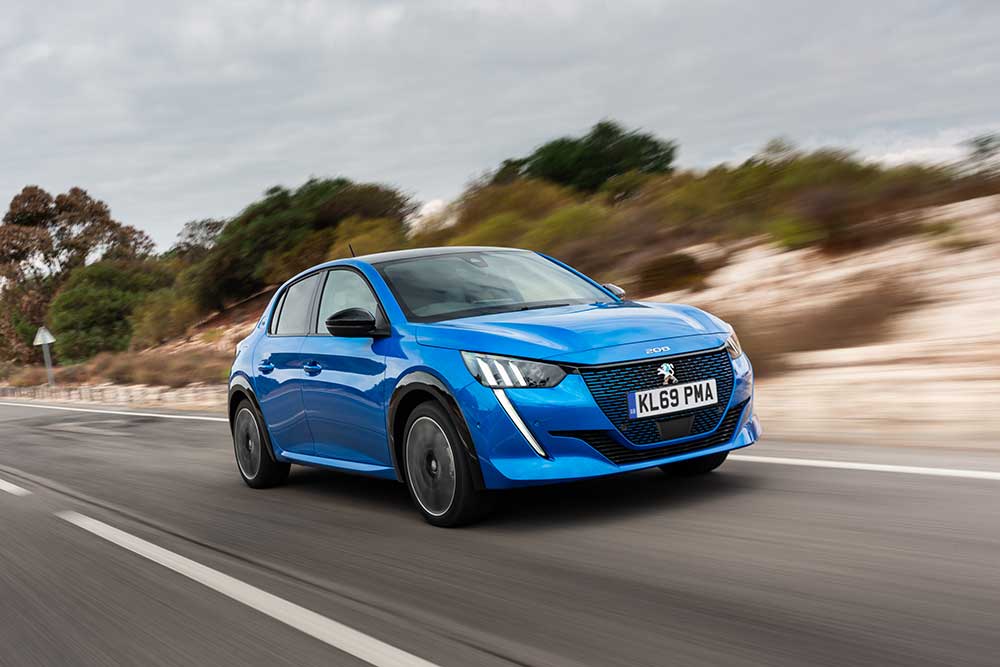 The Peugeot e-208 supermini takes all of the best elements of the regular 208 such as its stunning design and interior, combining it with a fully-electric powertrain for zero emission motoring. 
It's one of the best looking small EVs inside and out – and it's hushed on the move, too. The e-208 is also very capable with a range up to 217 miles, a figure that puts it close to some larger EVs. It also drives like a small Peugeot as well, with decent acceleration off the line, sharp handling and accurate steering. 
Other plus points include the thoroughly modern digital cabin, as well as strong practicality with room for four adults and a decent-sized boot.
MINI Electric – 'The driver's choice'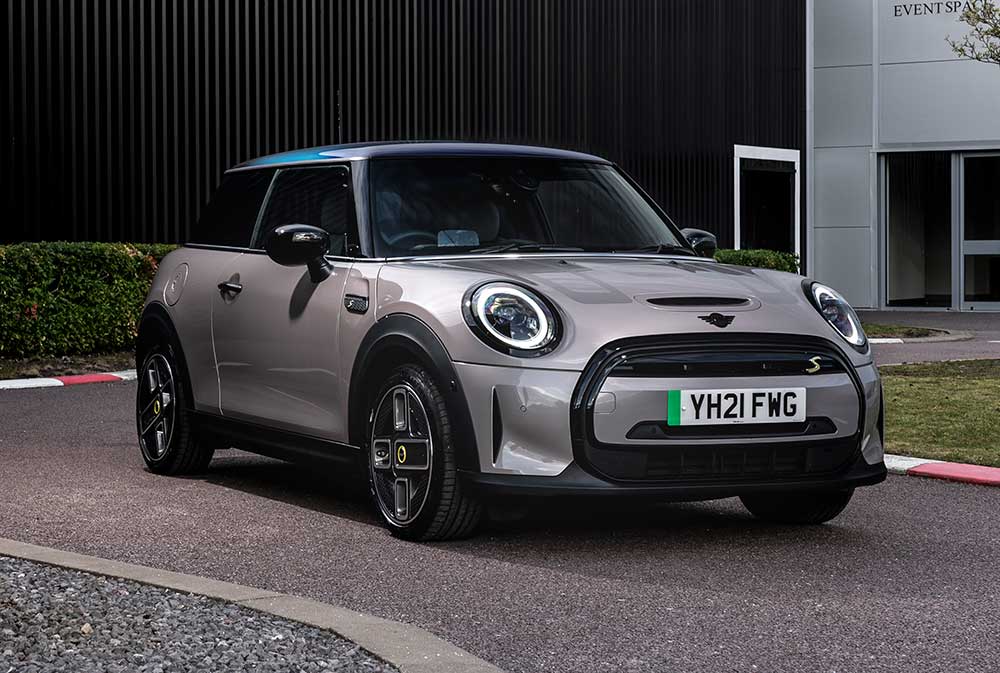 Some two decades after the MINI brand was revitalised by BMW, one of Britain's favourite small cars has now evolved into an EV. Dubbed the MINI Electric, it may not be able to match the practicality of some of the other cars in this list – but have no doubt it's retro-themed design and MINI nameplate give it a wealth of appeal. 
It's small dimensions benefit the way it drives, with the MINI Electric boasting the same go-kart style handling as the conventional petrol models. It also gets a 181bhp electric motor, which gives it surprisingly quick acceleration too. 
And while its official 144-mile range figure isn't the most competitive here, there's no doubt that you'll have plenty of fun driving it before you have to stop and charge. 
Honda e – 'The city choice'
After its reveal in concept form a few years ago, the production version of the Honda e wowed us when it arrived. While it may look like the product of a smartphone maker, it's design is a futuristic take on the city car – with near identical front and rear ends, compact dimensions and cameras in place of regular wing mirrors. 
Inside, you'll find a stunning tech-filled interior dominated by an ultra-wide dual screen infotainment system which allows you to plug in a PlayStation so you can keep yourself entertained while charging. Two versions of the e are available with similar power outputs – both are fitted with a small battery meaning a maximum range of up to 137 miles. This means this tiny car is right at home in the city, where its small size, quick steering and miniscule turning circle make it brilliant fun to drive. 
Mazda MX-30 – 'The small SUV choice'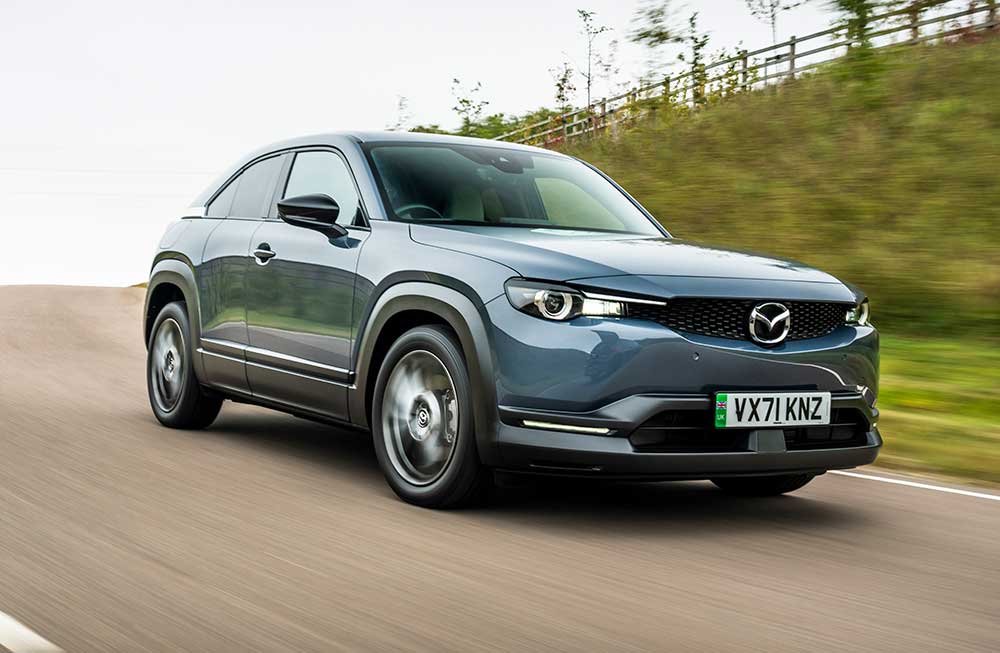 Of all the cars here, the Mazda MX-30 is one of the best thought out. It sits high, and makes full use of its supermini size with clever reversed hinged back doors to allow full access to the rear seats. It also features a slightly raised roofline and a flat floor to maximise interior and storage space. 
The MX-30's interior is trimmed with recycled materials including cork trim pieces – giving it a premium feel and finish. A 35kWh battery is standard, which offers 124 miles of range – with Mazda saying it makes it lighter and more efficient, and that this range figure is enough to cover most daily commutes. On the road, the lack of weight is noticeable, as the MX-30 feels agile and spritely thanks to its electric powertrain – meaning it feels at home on both backroads and motorways. 
Renault ZOE – 'The long range choice'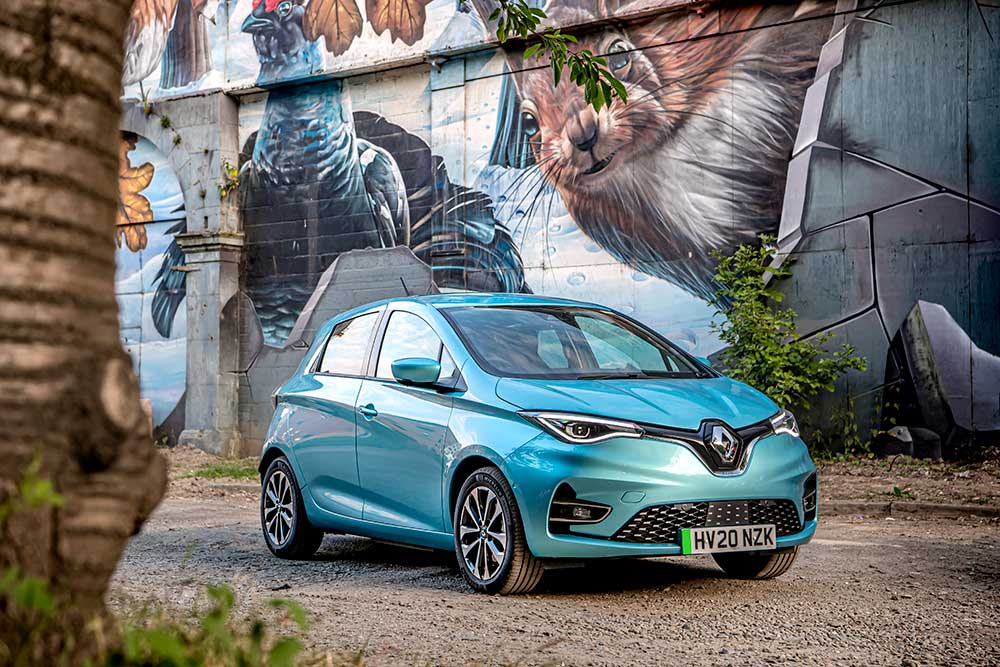 The diminutive Renault ZOE is a great example of a car that's benefitted from a number of well thought out changes throughout its life. It's still roughly the same size as when it was launched a decade ago, and now features fast charging capability and a larger 52kWh battery, giving it a range of up to 245 miles on a charge. 
In spite of being the smallest model offered by Renault, it's anything but basic inside – with top models getting a plushly trimmed interior, a portrait infotainment screen and digital dials. Like all the small EVs on this list, the ZOE is fun to drive and capable of fairly brisk performance. It's also very refined on the road thanks to its quiet powertrain, and is spacious enough to carry four people in comfort.
VW e-UP! - 'The all-rounder'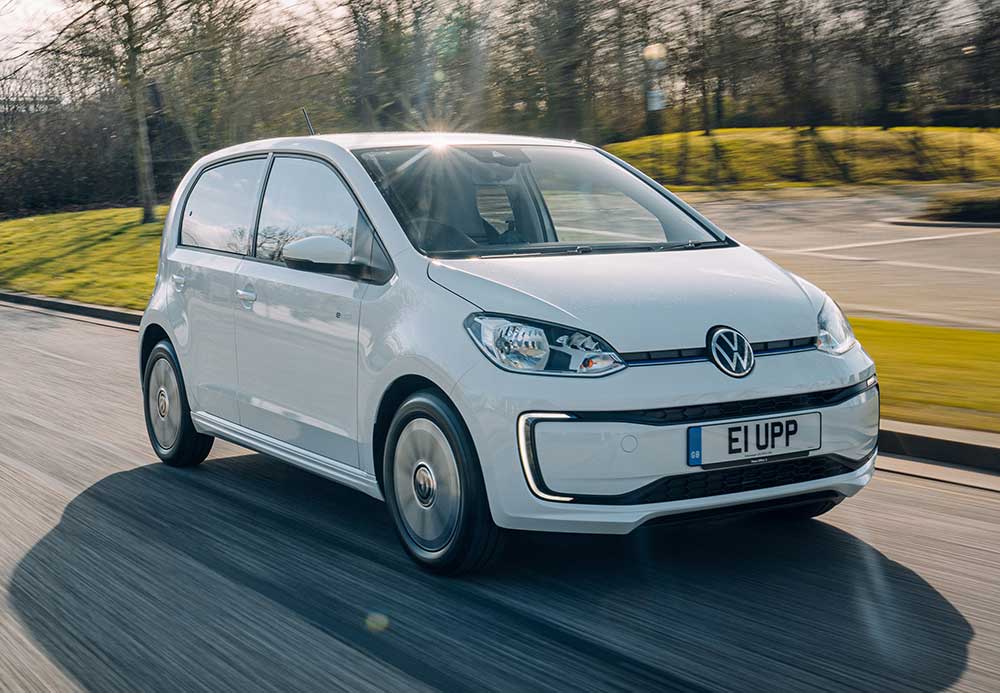 The VW e-UP! has been one of the most popular small EVs since it first hit the road in 2013, carrying the weighty banner as the VW Group's first mass produced electric car. Nearly a decade later, the most recent generation picks up the baton with an improved 160-mile range from the near doubled 32.4kWh, fast-charging compatible battery.
Many would argue that the e-UP! is one of the most complete electric cars on the market today, not just in the 'small' category. The car packs all the creature comforts of an SUV or sedan into a much more practical platform – the high quality yet modest interior, effective and uncluttered dashboard layout, and all the Bluetooth connectivity you could ask for. Out on the road the e-UP! is swift without the punchy and occasionally uncomfortable performance characteristics of larger electric cars. Despite the increased battery size the weight remains low to the ground offering a responsive driving experience and crucially the car is capable of producing a comfortable ride in the city and on the motorway.
To find out more about any of the cars listed above, please visit our Browse Cars section, or contact us by sending an email to hello@electriczoo.uk.