As the switch to electric vehicles gathers pace, a great number of manufacturers have introduced high-riding electric SUV models to their respective ranges. While smaller compact EVs are a step in the right direction, the huge popularity and overall dimensions of an SUV makes it the perfect choice for electrification. 
On paper at least, the SUV format has the makings of a great family car. They offer acres of space, commanding visibility and all the refinement you'll ever want – a combination that means buyers are snapping them up as quickly as car makers can build them. 
Thanks to a raised ride height and two-box design, the SUV is also a great candidate for an electric powertrain. Their vast dimensions provide plenty of room for a large battery, which means most offer a long range and a spacious interior, as well as vastly reduced running costs. 
Then we get to the image of SUVs – the large and heavy petrol and diesel models have often been criticised as some of the worst polluters on the road. Swap an SUV's powertrain for an electric one, though, and it becomes a zero emission vehicle – helping to vastly reduce its impact on the environment. 
Manufacturers are now embracing the electric SUV, and have introduced an array of models in the last few years. There's a model to suit all budgets and tastes, ranging from the affordable MG ZS EV, as well stylish models such as the Skoda Enyaq iV and Audi Q4 e-tron – all the way to premium and performance models like the Tesla Model X and Jaguar I-Pace. 
Here, the EZOO team has picked five of the best electric SUVs available in 2022. All are available on our Pay As You Go Deals, so read on for the full list. 
Hyundai Kona Electric – 'The long range choice'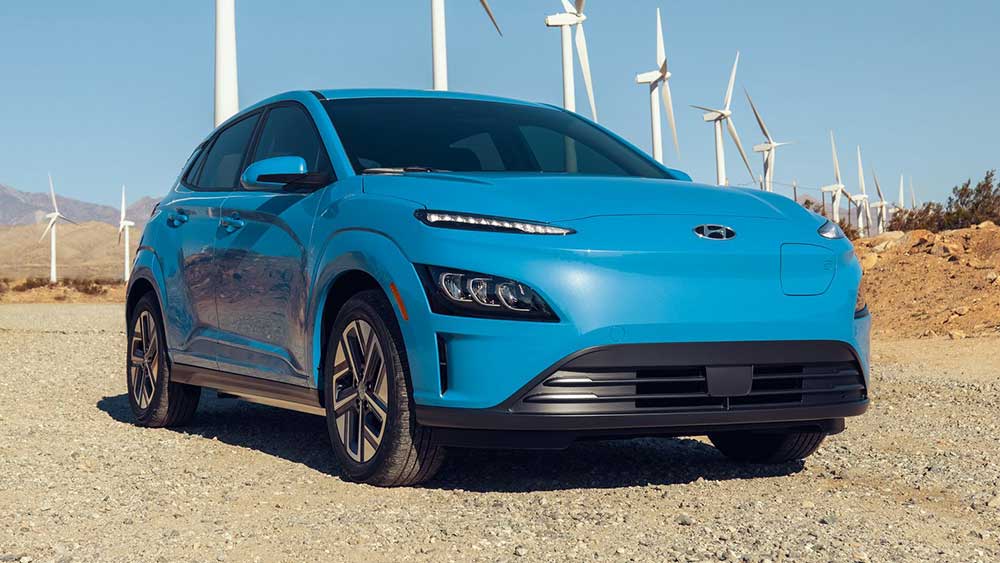 If you want a high-riding EV that doesn't shout about its zero emission credentials, then the Hyundai Kona Electric is one of the best available on our brilliant Pay As You Go deals. 
From the outside, it looks just like the regular Kona SUV – with its blanked-off front grille and front-mounted charging port hinting at its electric powertrain. 
But inside, Hyundai has replaced the conventional engine with a choice of two battery sizes. 
Even the entry level version manages around 189 miles, which is enough for most drivers – whereas the long range model can return a vast 301 miles between charging stops. 
Adding to the Kona's appeal is a stylish tech-filled interior, a practical 332-litre boot and a long list of standard safety features that includes adaptive cruise control and autonomous emergency braking.
Tesla Model X – 'The performance choice'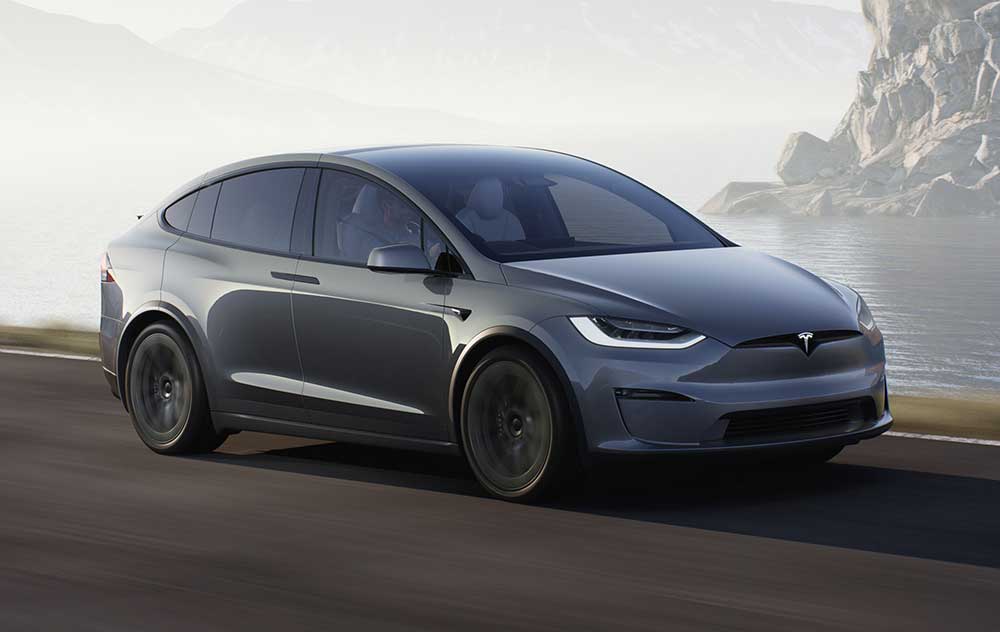 As Tesla's first ever SUV model, the Model X certainly delivered when it comes to its design, with its science fiction-style gullwing rear doors – which are not just for show as they offer easy access to the rear seats in narrow parking spaces. 
It's also one of only a handful of seven-seat SUVs on the market, meaning you'll have room for the entire family thanks to the handy third row of seats.
Every version of the Model X is capable of over 330 miles on a charge, and you'll get the full benefit of Tesla's wide-reaching Supercharger network when you're on the road. 
Beneath the space-age design, the Model X packs a stunning minimalist interior with the main infotainment screen controlling the car's functions – which can also be used to play video games while you charge. 
Then we get the Model X's biggest boast – speed. In fully-fledged 'Plaid' spec, this vast SUV produces over 1,000hp – allowing it to sprint from 0-60mph in around 2.5 seconds. A benchmark time that'll leave most supercars trailing in its wake. 
Audi e-Tron – 'The driver's EV'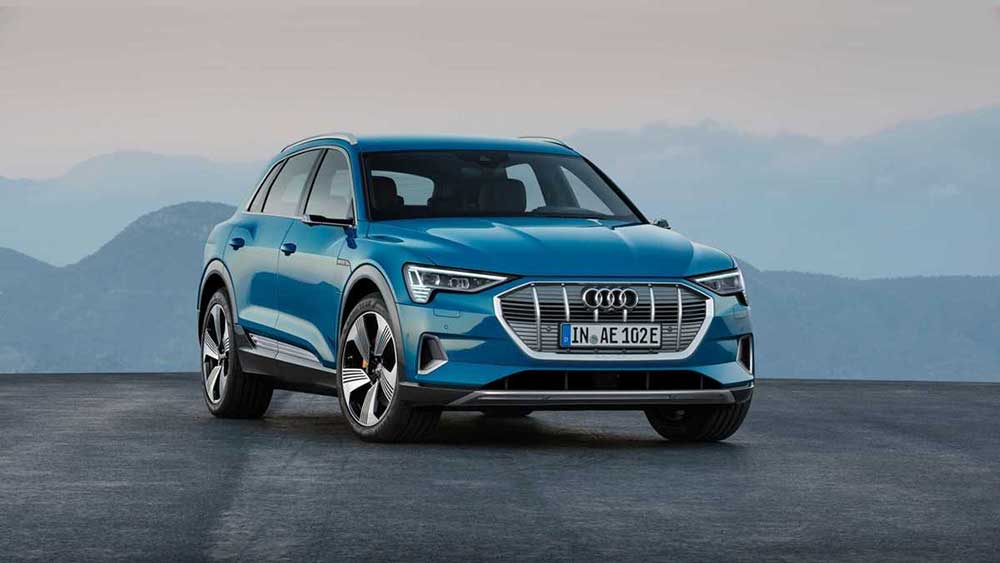 The Audi e-tron was the brand's first foray into the EV market. It carries over all of the tech, premium design and luxury you get from a regular Audi, blending it with an advanced electric powertrain. It's capable of rapid performance, and the larger battery version can manage close to 250 miles on a full charge.
You can get an e-tron in a regular SUV form or as a sleeker e-tron Sportback coupe model – with both offering great practicality. There's also a great selection of powertrains ranging from the standard '50' and '55' models – or you can opt for the flagship e-tron S which produces over 400hp thanks to a trio of electric motors. 
Mercedes-Benz EQC – 'The hi-tech choice'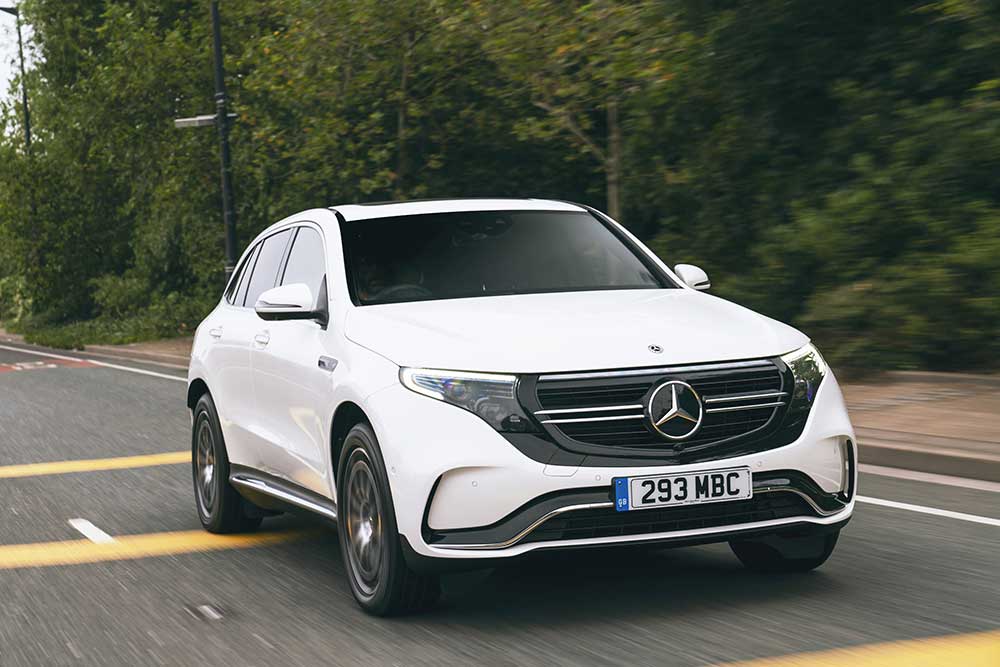 Like several of the models here, the Mercedes EQC was the German brand's first attempt at an electric SUV. It follows the e-tron formula by borrowing the styling and tech from Mercedes' regular cars, repurposing it seamlessly into an upmarket looking family EV.
Despite its full-sized dimensions, the EQC can sprint from 0-62mph in 5.1 seconds, while also returning over 220 miles of range. Inside, you get swathes of luxury as you'd expect and a fit and finish that's second to none. The standout, though, is the futuristic MBUX infotainment system stretching across the dashboard, as well as an advanced voice control system that's activated by saying, "Hey, Mercedes!"
This acts as your personal in-car concierge – simply tell it where you want to go, and it will set-up the navigation for you.  
Jaguar I-Pace – 'The premium choice'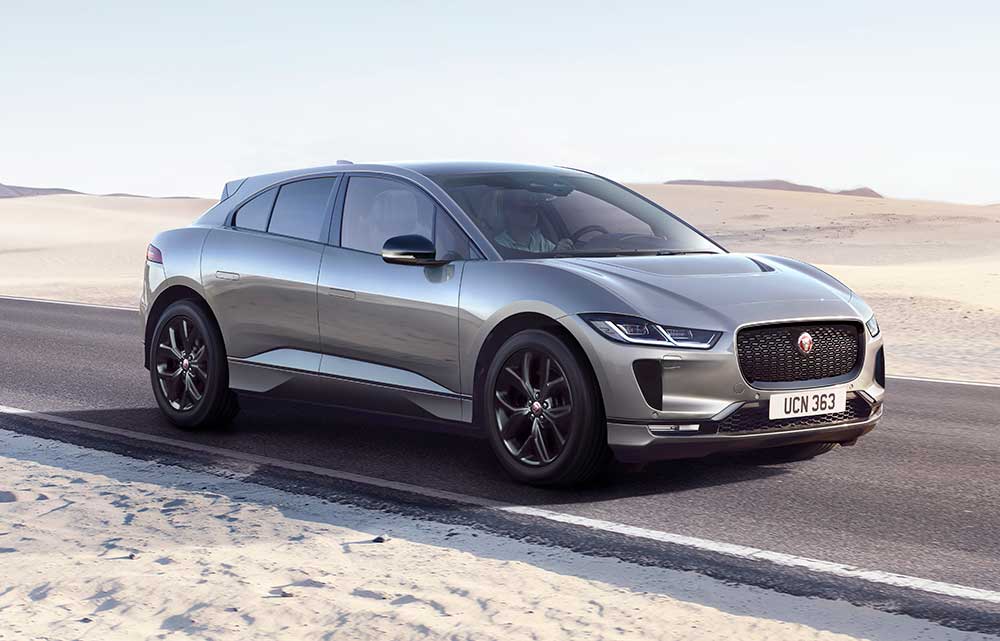 While Mercedes and Audi are now firmly a part of the march towards an electric future, Jaguar were first past the post to rival Tesla's supremacy with the I-Pace SUV. While it does without the fancy doors, the I-Pace has a typically luxurious interior which is fitted with the brand's latest Pivi Pro infotainment system. 
Obviously, we have to mention the way the I-Pace looks – it's still one of the best looking cars on the road, despite being a few years old now. 
It's also great to drive, with top notch dynamics that'll match its German rivals, and its 395bhp dual motor powertrain ensures it goes like a Jaguar, with 0-62mph taking just 4.8 seconds. 
In spite of this formidable performance, the I-Pace can manage up to 292 miles on a charge – making it the perfect replacement for a conventional family car.
To find out more about any of the cars listed above, please visit our Browse Cars section, or contact us by sending an email to hello@electriczoo.uk.