Some car enthusiasts say that EVs are no match for the fastest and greatest sports cars. But we don't agree.
Nowadays, electric sports cars are among the fastest and best to drive on the road – with many being faster and more modern than their ICE-powered counterparts. 
To help you decide which electric sports car is the best for you, we've thrashed out a list of the very best models available today. 
But before we get into that, let's set the record straight by answering the following question – if you want a sports car, why should you pick an EV?
For starters, nearly all electric cars offer punchy straight line performance. 
This is a trait of the electric motor as a whole. Even regular city car models are very capable, with instant acceleration whenever you prod the throttle. 
Unlike a petrol or diesel engine, which has to be revved hard to deliver full power, electric motors give you all of the available pulling power from the moment you accelerate, with zero delay. 
This instant power delivery also makes it easier to overtake, as there is none of the lag you get from a conventional engine. And with no gear changes to sap power, taking off from a standstill is seamless, from the moment you put your foot down. 
Not all electric sports cars are built with outright acceleration in mind, though. 
Most can provide balanced performance with a usable range of between 200-300 miles of range before you need to recharge the battery. And before the naysayers chime in, nearly all performance EVs feature a sharpened chassis – and some even come with synthetic engine noise to add a 'roar' to the thrilling acceleration.
Now, onto our list – as the EZOO team pick their favourites. Read on for the full lowdown on each model. 
MINI Electric – 'The compact choice'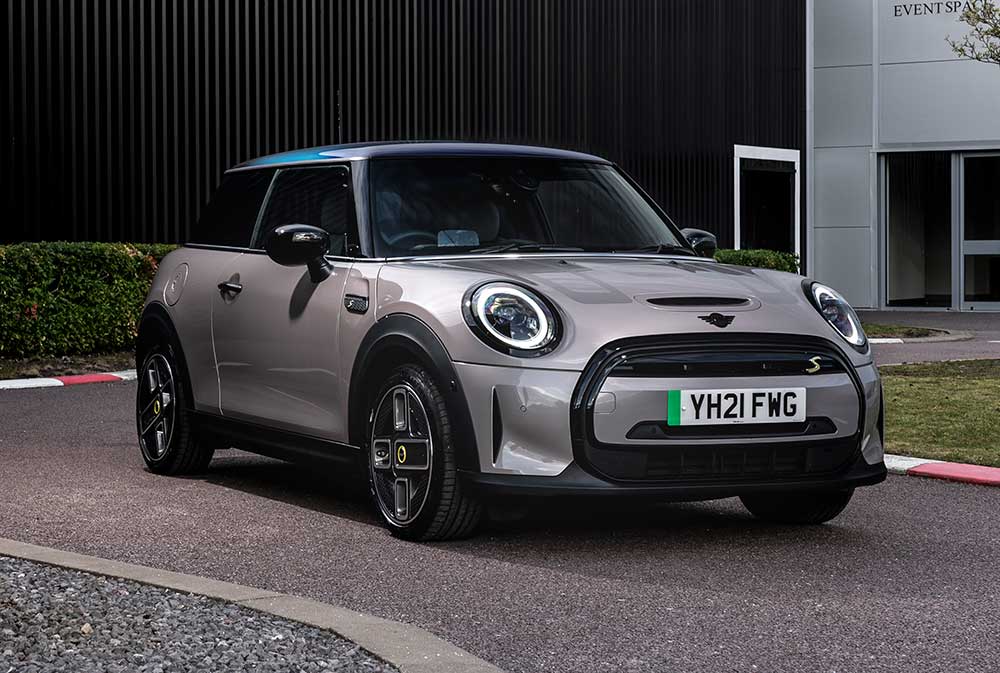 If you want something small, that's also great to drive, then the MINI Electric fits the bill perfectly. 
Like the regular MINI, the electric version gets the same go-kart handling, nippy performance and retro-themed looks. Thanks to its punchy electric powertrain, the MINI Electric can sprint from a standstill to 60mph in just over 7 seconds – a time that's not far behind many conventional hot hatchbacks. 
Its compact dimensions also make it perfectly suited to town driving. And with a range of around 170 miles, it's also very capable on longer journeys. 
It also comes with a premium interior, an array of modern technology – including digital dials and a large infotainment screen – as well as plenty of safety features. 
Ford Mustang Mach-E – 'The sporty SUV'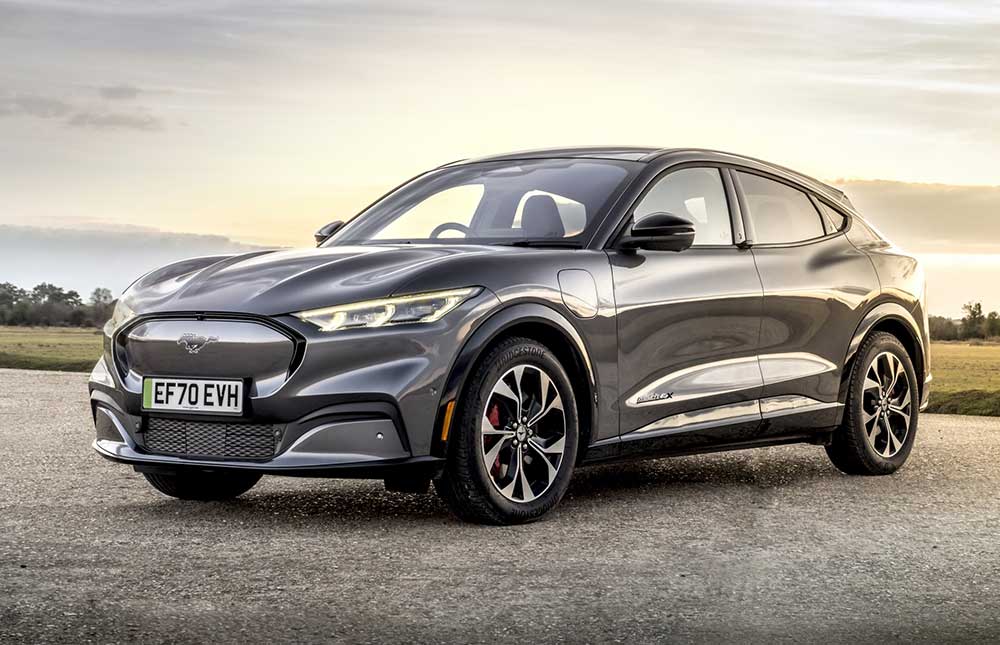 By creating the Mustang Mach-E, Ford has succeeded in recreating its iconic nameplate for the 21st century with an all-electric SUV. 
In spite of what some of the Mustang's diehard fans would say, the Mustang Mach-E is worthy of this famous name. Every model is a capable performance car, with a choice of rear- and four-wheel drive across the range. The model also lives up to its muscle car origins with the dual-motor AWD version going from 0-60mph in just 5.8 seconds. If this isn't fast enough, there's the flagship GT Performance, which manages the same benchmark in a scant 3.5 seconds. 
The Mach-E isn't just about performance either. In long range form, it's capable of over 370 miles, a figure that puts it close to the Tesla Model Y. It's also very practical with a 502-litre boot and a spacious interior, making it the most family-friendly Mustang ever produced. 
Audi e-tron GT – 'The electric Grand Tourer'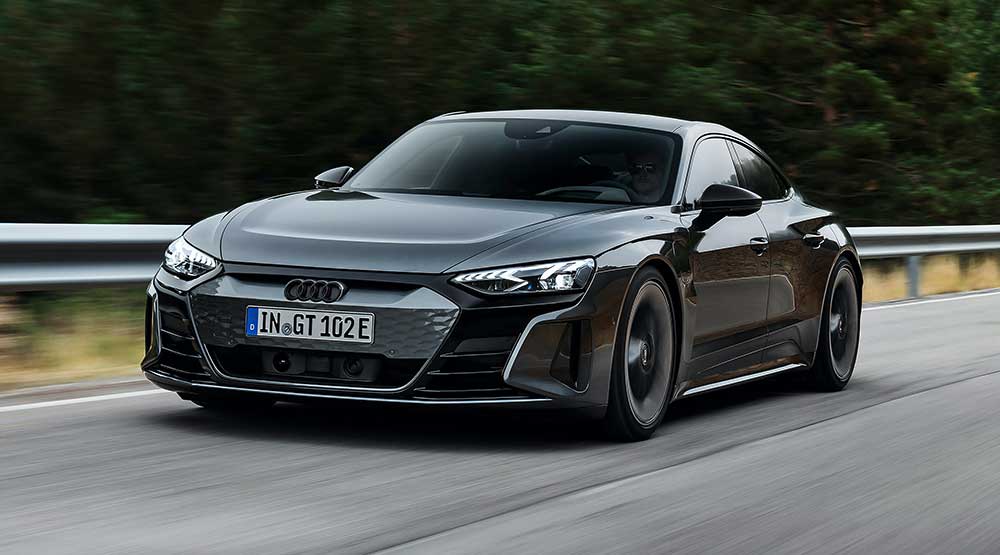 If you want an EV that blends rapid performance and long distance cruising ability, the Audi e-tron GT is a great choice. It shares its platform with the Porsche Taycan, and comes in two distinct flavours. 
The range kicks off with the base e-tron GT model, which sports the trademark Audi 'full frame' front grille and a sweeping body design. Irrespective of its entry-level status, it's capable of thumping performance managing 0-60mph in 4 seconds. Above this is the RS e-tron GT, which is the brand's first 'RS' badged electric model. If you think the standard car is quick, then the RS model trumps it for performance with a 0-60mph time of around 3 seconds – a benchmark that's only beaten by the Tesla Model S Plaid and Porsche Taycan Turbo S. 
Long-distance cruising is where the e-tron GT really shines though, as with a range of close to 300 miles, it's a very comfortable high-speed cruiser, which is also capable of effortless acceleration when you need it. Audi has also gone that extra mile to ensure it offers a memorable driving experience too, with super agile handling and a luxury tech-packed interior – making it an EV with real continent crossing ability that is also great to drive.  
Jaguar I-Pace – 'The luxury choice'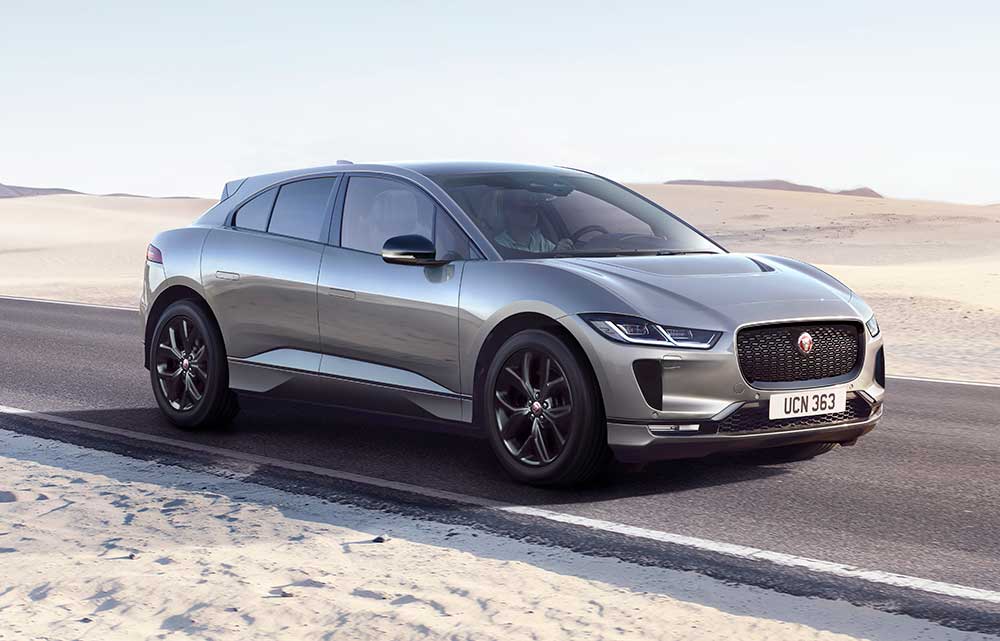 Some of you might think that a luxury sports SUV might be slightly out of place on this list, but the Jaguar I-Pace is a worthy contender here. 
It channels all of Jaguar's rich history and echoes some of its greatest models such as the world famous E-Type and the latest F-Type coupe. This heritage is immediately apparent the moment you drive an I-Pace as it drives like a Jaguar.
Even though it's the brand's first fully-electric model, it has a composed and secure chassis. The I-Pace also delivers plenty of excitement as well, with a 0-60 time of under 5 seconds, and rapid acceleration at the slightest press of the accelerator. 
It also lives up to its SUV status with a huge boot and a decent sized front 'frunk' – making it a great car for the family. While inside, the interior features more luxury than you ever thought you'd want and an array of the latest technology. 
Lastly, there's the way it looks. As the design of the I-Pace is full of flowing lines and curves, which combine perfectly with the signature Jaguar front end – making it one of the most stunning cars on the road. 
Porsche Taycan – 'The driver's EV'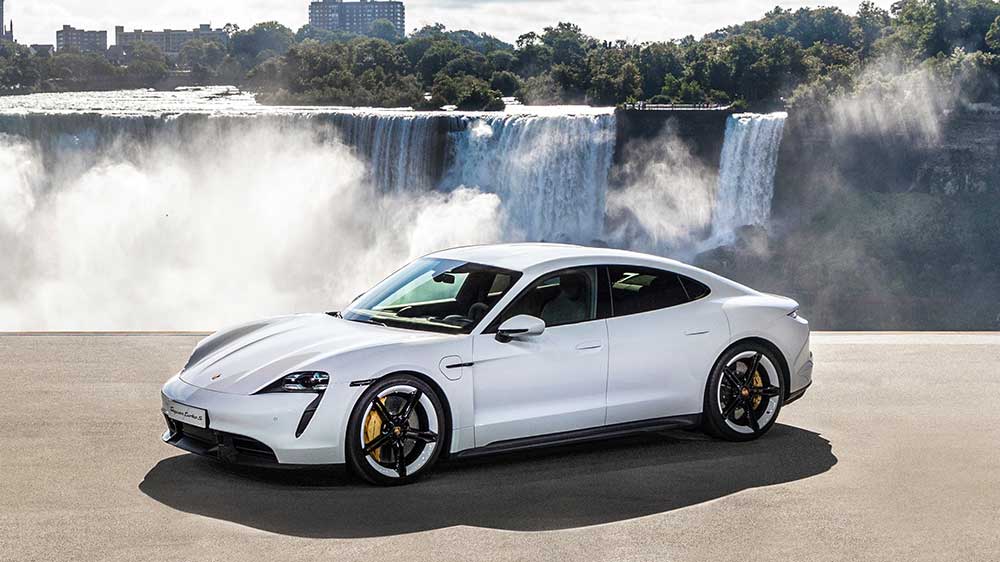 With the Taycan, Porsche has shown that it means business in the electric car world. While the hardcore 911 fanbase may have been dismayed when the brand announced it was making an electric four-door sports car – the fact that its now Porsche's biggest selling model in some markets speaks volumes for how good it is. 
In creating the Taycan, Porsche has proven that the electric sports car is the future. It drives, looks and goes like a Porsche should, with an unmistakable ability similar to the iconic 911 coupe. It can also match a number of supercars for pace as well, with the 750 horsepower Turbo S capable of going from a standing start to 62mph in only 2.8 seconds. 
If its ability is not enough to convince you, the Taycan also has a premium interior, a variety of personalisation options and top notch technology. And if the regular Taycan saloon cannot meet your needs, there's also the Sport Turismo and Cross Turismo estate models if you want more practicality – a lineup that makes it one of the most versatile cars available. 
The Taycan is also easy to live with thanks to 800-volt charging capability that's compatible with the latest ultra-rapid chargers – meaning you won't be waiting long to charge up, with a full top taking around 20 minutes. 
To find out more about any of the cars listed above, please visit our Browse Cars section, or contact us by sending an email to hello@electriczoo.uk.