Introduction to the Audi Q4 e-tron
The Audi Q4 e-tron is among the first fully electric vehicles the company has released, with the standard Audi grille (obviously just for the aesthetic). One of the Q4 models comes with a 77kWh battery and 265 miles of range, which is now pretty standard for an electric SUV. The battery does come with good fast-charging ability which reduces the charging time down to half an hour. 
Buyers have the option to choose the classic Q4 SUV, or opt for a sportier coupe look with the Sportback version. 
Audi has maintained a luxurious feel inside the car, too. The interior is pleasantly spacious, with front heated seats, which come in especially handy during the cold winter months. A nice touch, and something fairly new for Audi, is the new optional head-up display. This uses augmented reality to project information seemingly onto the road, such as the speed limit and distance from the car in front. 
Creating the illusion of a more open space, panoramic roofs are understandably becoming more popular in modern cars, and the Audi Q4 is no different (although it is only available on the higher trim levels). 
The technology implemented inside the vehicle makes driving a relaxing, effortless experience. The Audi Drive Select allows the driver to select the drive mode, with adaptive cruise control to complement it. Audi's 11.6-inch infotainment includes an intuitive navigation system that locates charging points along your route, so you can plan your journey ahead. Android Auto, Apple CarPlay and wireless phone charging are extras that are always appreciated. 
The MyAudi app can be installed on any smartphone and allows you to monitor the car's range/battery level and windscreen wash levels, as well as being able to remotely start your climate control before getting in the car- especially helpful during the winter period. The app can also be connected to the infotainment to automatically transfer data from your phone straight into the car, so the destinations will already be saved into the vehicle's navigation system. 
Some manufacturers have previously swapped the physical buttons and rotary switches in the centre console for touchscreen versions. Audi has kept the physical buttons instead, which some people say are easier to use, but it is still down to the individual's personal preference.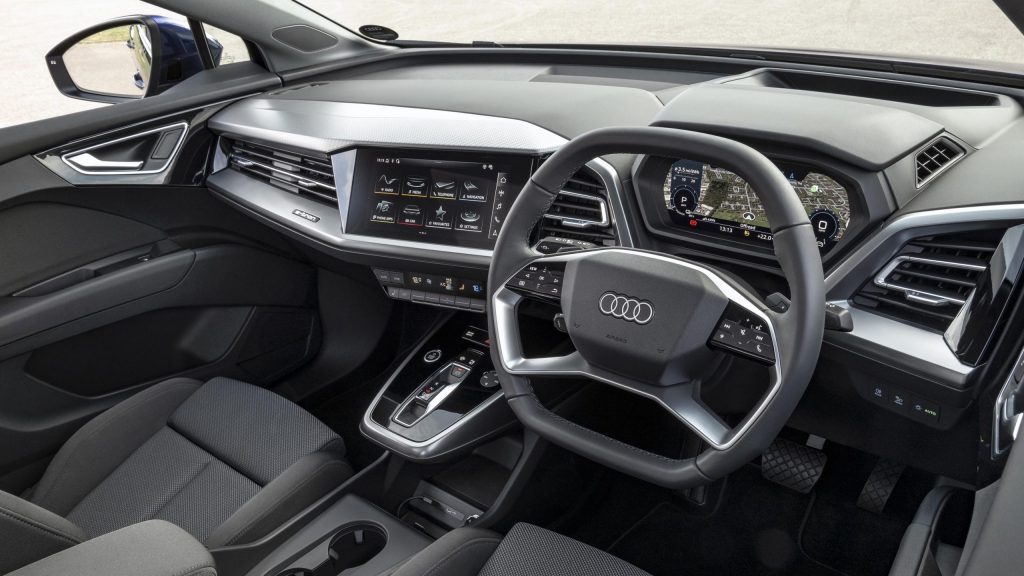 Add Your Heading Text Here
A typical Audi product – fantastic build quality, sharp design, and an ever-increasing push into tech and connectivity. The big battery coupe is the showstopper, with respectable range and a sexy profile, but even the SUV with its school run credentials provides a sound electric offering. Sure, rivals may be able to one-up the range and charging, but at this price point there isn't much that can compete with the all-round nature of this beast.